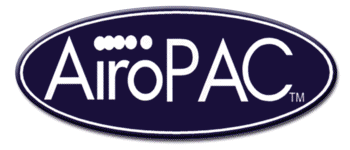 AIROBUBBLE™ STANDARD
Airobubble™ is highly protective providing cushioning for your products against shock and vibration. Lightweight, clean, versatile and economical. It is available in a range of standard widths.


| | |
| --- | --- |
| 220mm x 60m | 650mm x 60m |
| 250mm x 60m | 750mm x 60m |
| 300mm x 60m | 870mm x 60m |
| 440mm x 60m | 1000mm x 60m |
| 500mm x 60m | 1300mm x 60m |

All rolls can be perforated to specific sheet sizes.
AIROBUBBLE™ IDEAL 5M ROLLS
Ideal 5 metre rolls are designed for that specific small or one off use for which a range of sizes are available. Lightweight and compact they can be attractively displayed in the specially designed stand in showrooms and retail shops.


| | |
| --- | --- |
| 440mm x 5m | 750mm x 5m |
| 500mm x 5m | 1000mm x 5m |
| 650mm x 5m | 1300mm x 5m |
AIROBUBBLE™ SMALL 500MM X 1.5M ROLLS
25 Handy Rolls in an attractive cut away display carton. Each roll is presented in a printed clear sleeve and bar coded. An extremely popular product and a must for showrooms and stationery outlets. Extensively used in the office, shop and home.
BUBBLE BAGS AND TUBE
A range of standard Airobubble™ Bags providing excellent cushioning properties while ensuring optimum productivity by minimizing wrapping time and wastage. Lightweight and transparent to reduce transport cost and provide quick product identification.
Bag sizes available: (internal dimensions)


| | |
| --- | --- |
| 100mm x 150mm | 300mm x 400mm |
| 150mm x 250mm | 300mm x 500mm |
| 170mm x 250mm | 370mm x 500mm |
| 210mm x 250mm | 450mm x 600mm |
| 250mm x 375mm | Other sizes & tubes made to order |
JUMBO AIROBUBBLE™
Large 25mm dia. bubbles for extra protection and void-fill applications in shipping cartons. Excellent cushioning characteristics for both heavy duty items and light delicate products such as computers,appliances and glassware. Two standard widths:


650mm x 30m
1300mm x 30m
Other sizes (including perforated sheets) available upon request.
"READY TO WRAP" AIROBUBBLE™
For wrapping smaller objects or as interleaving a 30m perforated roll of 300mm x 300mm sheets. "Ready to Wrap" Airobubble™ is available in an economical dispenser carton. Ideal for the office, warehouse or shop. refill packs (30m) available. Also available are larger 60m rolls of 300mm x 300mm perforated sheets.
ANTISTATIC AIROBUBBLE™
Ideal for products likely to produce a static charge such as electronic and telecommunications components whilst providing full bubble cushioning protection. Colour coded pink - yet transparent for product/inventory identification. Available in standard Airobubble™ roll sizes. Bags and sheets made to customers requirements.
TRANZWRAP™ PROTECTIVE WRAPS
A range of Airobubble based laminates offering ideal storage and transport protection for large and bulky items. These products offer a single economical protective wrap while providing excellent surface protection, cushioning, impact, puncture and water resistant properties.


TRANZWRAP™ Economy
White Kraft / Airobubble™
1250mm x 100m
TRANZWRAP™ Premium
White Kraft / Airobubble™ / Co-Ex opaque film
1250mm x 75m
TRANZWRAP™ Premium Plus
White Kraft / Airobubble™ / Co-Ex opaque film
1300mm x 60m
Other sizes (including perforated sheets) available upon request.
INSUL FOIL AIROBUBBLE™
A lightweight, flexible insulating bubble cushioning material for temperature sensitive applications. Ideal for road, air, and sea freight shipments of chilled fish, meat, wine, and flowers. Just as it keeps items cool it will keep chicken, pizzas and pies etc. warm.
Two roll sizes available:


1300mm x 60m standard
1300mm x 30m Jumbo
Customized bags and sheets made to specific requirements.
AIROFOAM™
A versatile CFC free polyethylene foam for surface protection, interleaving and lightweight cushioning. Thickness to suit all applications - rolls available in a range of widths from 1000mm to 1550mm or slit and/or perforated to exact sizes.


1mm
100m and 300m rolls
10mm
100m roll
2mm
200m
15mm
50m roll
3mm
100m
20mm
50m roll
4mm
100m
25mm
2m sheet
5mm
100m
50mm
2m sheet glued
8mm
100m
Customized bags and sheets made to specific requirements.
POST POUCH™
A three layer pouch with a white kraft outer,smooth Airobubble™ interior. An economical mailer, it's lightweight, heat sealable and easy to write upon. All this with bubble cushioning for product protection.
10 sizes (internal dimensions)


| | | | | | |
| --- | --- | --- | --- | --- | --- |
| CODE | SIZE | Qty/ctn | CODE | SIZE | Qty/ctn |
| P1 | 95mm x 170mm | 500 | P6 | 250mm x 315mm | 50 |
| P2 | 110mm x 210mm | 500 | P7 | 300mm x 315mm | 50 |
| P3 | 127mm x 170mm | 500 | P8 | 300mm x 460mm | 50 |
| P4 | 150mm x 210mm | 500 | P9 | 375mm x 630mm | 50 |
| P5 | 200mm x 210mm | 100 | P10 | 435mm x 630mm | 50 |
J' BAG™
A three layer bag with a robust brown kraft outer and a smooth Airobubble™ interior with self sealing flap. Provides greater tear, scuff and puncture resistance. Extra protection but very lightweight.
Sizes available: (internal dimensions)


| | | | | | |
| --- | --- | --- | --- | --- | --- |
| CODE | SIZE | Qty/ctn | CODE | SIZE | Qty/ctn |
| J1 | 150mm x 230mm + 40mm flap | 100 | J5 | 265mm x 380mm + 45mm flap | 50 |
| J2 | 215mm x 280mm + 40mm flap | 100 | J6 | 305mm x 405mm + 45mm flap | 50 |
| J4 | 240mm x 345mm + 40mm flap | 50 | J7 | 360mm x 485mm + 45mm flap | 50 |
AIROBAG™
A three layer tough all plastic opaque mailing bag with a smooth Airobubble™ interior, seal down flap and address panels. Provides extra waterproofing and impact resistance with tamper evident sealing.
Sizes available: (internal dimensions)


| | | | | | |
| --- | --- | --- | --- | --- | --- |
| CODE | SIZE | Qty/ctn | CODE | SIZE | Qty/ctn |
| AB2 | 115mm x 210mm + 30mm flap | 50 | AB7 | 300mm x 315mm + 40mm flap | 50 |
| AB4 | 160mm x 210mm + 30mm flap | 50 | AB8 | 300mm x 465mm + 45mm flap | 50 |
| AB5 | 200mm x 250mm + 35mm flap | 50 | AB9 (plain) | 375mm x 630mm + 40mm flap | 50 |
| AB6 | 250mm x 315mm + 40mm flap | 50 | AB10 (plain) | 435mm x 630mm + 40mm flap | 50 |
AIRO COURIER MAILERS™
Plastic self-sealing envelopes with an opaque modified surface for writing on. Offering excellent puncture, tear and water resistance they are ideal for general mail, security packs and annual reports.


CODE
SIZE
Qty/Ctn
ACM1
430mm x 460mm + 60mm flap
250
ACM3
330mm x 400mm + 60mm flap
500
ACM4
240mm x 320mm + 60mm flap
500
ACM5
185mm x 260mm + 60mm flap
1000
Customized printing available (minimum quantities apply)